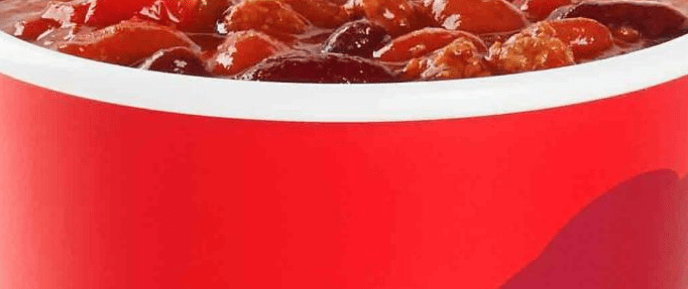 Wendy's Chili Nutrition Facts and other timeless information for health and fitness conscious individuals.
If you love eating burgers and chicken sandwiches at Wendy's, you can swap the fries for chili to make your meal healthier.
Below are the nutrition facts for both large and small chili from Wendy's.
| | | | | |
| --- | --- | --- | --- | --- |
| Small Chili | 170 calories | 5 grams of fat | 16 grams of carbs | 15 grams of protein |
| Large Chili | 250 calories | 7 grams of fat | 23 grams of carbs | 23 grams of protein |
As you probably already know, fries are loaded with calories, fat, and refined carbohydrates, so making this simple change will help enormously in achieving your weight loss goals.
Here's the full nutritional breakdown in case you need more information:
Wendy's Chili Nutritional Information
Wendy's Chili Nutrition Facts Table
Calories
170
Calories From Fat
45
Total Fat
5g
Saturated Fat
2g
Trans Fat
0g
Cholesterol
35mg
Sodium
780mg
Total Carbohydrates
16g
Dietary Fiber
4g
Sugars
6g
Protein
15g
Although most people prefer fries as a side to burgers and sandwiches, you can choose the healthier alternative, Wendy's Chili, to make your meal higher in protein.
By switching fries for chili, not only will you add more grams of protein to your meal, you'll also cut a lot of carbs, fat, and calories out of your diet, which increases your chances of losing weight.
If you're not interested in losing weight, it's still a good idea to make the switch, because apart from getting rid of unnecessary calories, you'll also notice improved health overall. Low-calorie diets mean longer and higher quality lives, don't forget that.
Also, more protein means more muscle and higher cognitive function, which is something we could all benefit from.
Wendy's chili is packed with beef and beans, which makes it high in protein and fiber, which are two things that make you feel and stay full.
To make your chili even healthier avoid adding toppings like cheese or saltine crackers. And if you're really serious about losing weight, order the small cup, especially if you're having it as a side dish.
If want to have chili for lunch or dinner, then ordering the large cup is a good idea, because it only has 250 calories, and you'll enjoy a high protein meal in a fast-food restaurant that's actually good for you.
There are 250 calories in a large cup of Wendy's Chili, and 170 calories in a small cup of chili. Most calories come from protein and carbohydrates, according to Wendys.com.
As you can see, in terms of fat, carbs, and calories, Wendy's Chili is one of the best options around, and a far superior alternative to french fries. It provides important nutrients that most side items, especially fries, do not.
As mentioned above, try to order the small chili every time to kick more calories off your plate and keep your sodium intake lower too.
What do you think about Wendy's Chili caloric value? Would you ever swap fries for chili? How do you like your chili? Share your thoughts and opinions in the comments below.