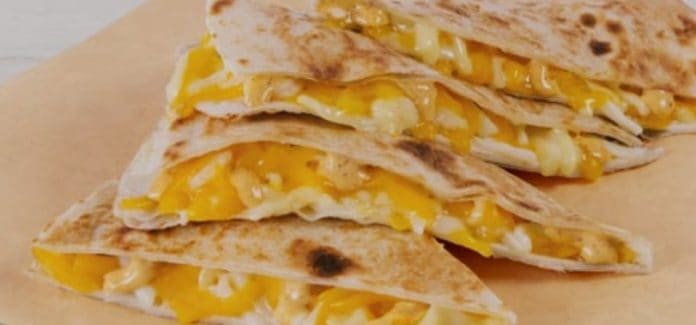 Taco Bell's Cheese Quesadilla is the menu item guests usually ask for when they can't decide on what to order.
And although it only has 460 calories, it's super tasty and filling. Not to mention cheap. For just $2.89 you can enjoy a delicious snack that won't break the caloric bank.
The Taco Bell Cheese Quesadilla may seem simple or even basic, but it is not. Believe that.
When combined right, simple ingredients like flour tortilla, a hefty portion of three-cheese blend, and creamy jalapeño sauce, can produce incredible results.
"The creamy jalapeño sauce gives the quesadilla enough kick to give your taste buds something to cheer about," as Taco Bell puts it.
How Many Calories Taco Bell Cheese Quesadilla?
Good question. The chain's cheese quesadilla has 460 calories of which 230 are from fat, 148 from carbohydrates, and 76 from protein.
You can see the full nutritional breakdown of a cheese quesadilla from Taco Bell in the table below:
Taco Bell Cheese Quesadilla Nutrition Facts Table
Calories
460
Calories From Fat
230
Total Fat
26g
Saturated Fat
11g
Trans Fat
0.5g
Cholesterol
50mg
Sodium
980mg
Carbohydrates
37g
Fiber
4g
Sugars
3g
Protein
19g
Allergens
Taco Bell's cheese quesadilla contains the following allergens:
Allergens and Nutrition Info via: Taco Bell.