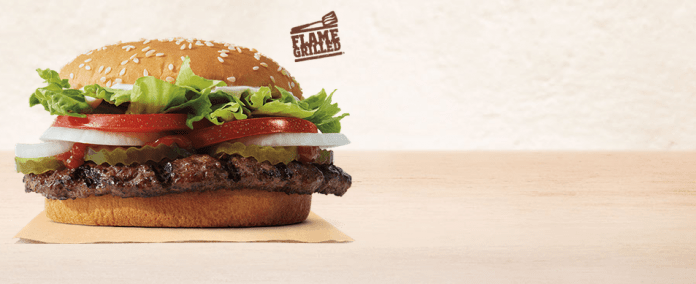 The Whopper is Burger King's signature sandwich. Introduced in 1957, it's probably still the chain's biggest draw.
Find out how many calories, carbohydrates and fat each sandwich has below.
We'll also include other nutrition facts so you can view all the information that matters in order to help you make informed choices when shopping for fast food.
Although there are several versions of the Whopper like the Angry Whopper, the Angriest Whopper, and the Pizza Burger among many more, we'll be focusing exclusively on the classic Whopper.
The original Whopper sandwich is a quarter pound of flame grilled beef with tomatoes, lettuce, mayonnaise, ketchup, pickles, and onions on a sesame seed bun.
Burger King's signature sandwich contains allergens such as eggs, soy, and wheat which can lead to allergic reactions.
How Many Calories Does a Whopper Have?
A Whopper has 660 calories.
Does a Whopper burger make you fat?
It all depends on the number of calories you can consume each day.
If you haven't exceeded your calorie limit for the day, then you can probably get away with a sandwich, heck, maybe even the whole meal.
The Whopper is served with a small side of french fries or onion rings, and a small soft drink of your choice. So if you get the whole meal, you're looking at over a thousand calories for just one meal. That's a lot.
A small serving of fries or onion rings adds 320 calories, and a small classic coke adds 210 calories.
However, if you ask for a diet coke, your meal won't exceed 1,000 calories. But it'll still be a lot of calories for a single meal.
Whopper Full Nutrition Information
Calories: 660
Fat: 40g
Saturated Fat: 12g
Trans Fat: 1.5g
Cholesterol: 90mg
Sodium: 980mg
Carbohydrates: 49g
Fiber: 2g
Sugar: 11g
Protein: 28g
As mentioned above, the calorie count will go up significantly if you add french fries or onion rings, and a drink that contains calories and sugar.
You can reduce the amount of calories in your Whopper by nixing the cheese, the mayo, the ketchup, and the bun.
Your burger might not be as tasty and filling if you omit these items, but it will be a whole lot healthier.
But, if you can spare the calories, go for it. Ain't nothing wrong with having a delicious Whopper sandwich every now and then.
The Whopper has more calories than the Big Mac, so if you can't spare the extra calories, you might want to consider getting the Big Mac instead.
What do you think about the number of calories each Whopper burger has? Is it worth it? Tell us what you think in the comments below.
Nutrition Information Source: BK.com