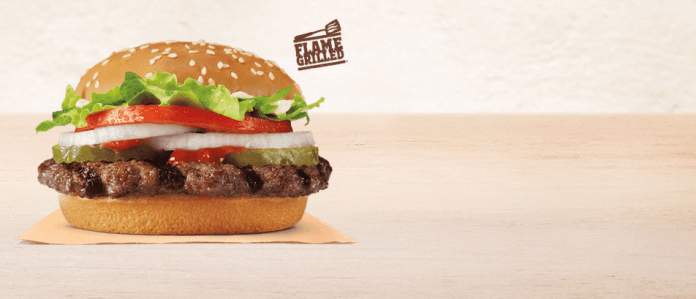 Burger King Whopper Jr. and Whopper Jr. with cheese calories, nutrition facts, and other important information for the health conscious individual.
Get detailed nutrition information so you can make informed choices when choosing what to eat at fast food restaurants like Burger King.
The Whopper Jr. is the smaller sibling of Burger King's popular Whopper sandwich. So it's basically the second most popular sandwich at the world's fifth largest fast-food restaurant chain.
But don't be fooled. Despite being a smaller version of the bigger, more filling Whopper burger, it is commonly regarded as one of the best cheeseburgers on the planet.
The Whopper Jr. does not include cheese.
However, you can quickly enhance your burger experience and make its calorie count higher by ordering it with cheese.
How many more calories will a single slice of American cheese add to your meal?
Just 40 calories, a few extra grams of fat, and 1 gram of carbs.
How is the Whopper Jr. Made?
Burger King's Whopper Jr. sandwich features a grilled beef patty topped with tomatoes, lettuce, mayo, ketchup, pickles, and sliced white onions on a sesame bun.
If you order it as a meal, it will also include a small side of french fries or golden onion rings, and small drink.
Keep in mind that if you order the Whopper Jr. meal will be higher because of the additional items.
Does a Whopper Jr. Have Allergens?
Yes, it does.
Whopper Jr. With Cheese Nutrition Facts
Full nutrition facts for a Whopper Jr. sandwich with cheese.
To view nutrition information for Whopper Jr. burgers with no cheese, see the nutrition label on the right (or at the bottom if you're on mobile).
Calories: 350
Fat: 21g
Saturated Fat: 7g
Trans Fat: 0g
Cholesterol: 40mg
Sodium: 640mg
Carbohydrates: 28g
Fiber: 1g
Sugar: 7g
Protein: 12g
If you compare the Whopper Jr's nutrition facts with that of a regular-sized Whopper sandwich, you'll instantly notice that a Whopper Jr. is a good alternative for those watching calories.
You can reduce the amount of calories in your Whopper Jr. by forgoing the cheese, the mayo, the ketchup, and the bun.
What's your opinion about Burger King's Whopper Jr. nutrition value? Please share your thoughts in the comments below.